The customer experience must be crafted.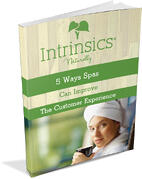 Customers come to a spa for a luxurious experience. They've made a conscious decision, one that could be summed up like this: "Today, I am treating myself."
Spas of all sizes may be surprised to learn how missing key details impact the level of service that is provided.
Download our free ebook, 5 Ways Spas Can Improve the Customer Experience, to learn what should be considered when crafting the customer experience. Topics include:
Training employees to be the cream of the crop
Offering superior products
Providing exclusive benefits
Complete the form to the right and we'll send a link to this ebook directly to you. Download now to ensure your customers are receiving an impeccable experience!